Insurance
You need it to protect your business, your employees and yourself. Fortunately, Graphic Media Alliance has partnered with several companies to bring you the insurance you need to protect it all.
Protecting Your Business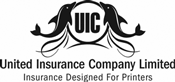 United Insurance Co. (UIC) began offering Employment Related Practices Legal (ERPL) Expense Reimbursement Insurance coverage to the printing industry to assist those printers whose compliance with the employment laws that govern this market is questioned. The high dollar judgments and settlements imposed upon employers with or without merit threaten their companies' viability. Since its inception, UIC has paid out more than $13 million to settle claims. It has helped to recover losses caused by work stoppages and, in some cases, provided the means of survival for many of its policy holders. UIC provides coverage for both union and non-union companies.
Federated Insurance provides many different coverage options for

printers and graphic communications companies. They include: limited pollution coverage, equipment breakdown endorsement, publishers liability insurance, graphic edge commercial output policy, graphic arts errors and omissions insurance and a graphic arts umbrella liability program. You don't know how much you need these great safety nets… until you need them. The short-term cost is minimal compared to the long-term risk you're taking.
To learn more about United Insurance or Federated Insurance, call your Business Development Director at (888) 576-1971.
Protecting Your Employees
Your most valuable asset isn't the iron on the floor or the paper in your warehouse... it's your employees!
Printers' Disability Trust is a benefit of membership that enables you to provide short-term and long-term disability insurance to your employees at a minimal cost to you. Want to be a major player in the marketplace when trying to recruit employees? Then your benefits better be the cream of the crop. This benefit of membership enables you to provide the insurance at a reasonable cost. Your employees will be grateful.
To learn more about short-term or long-term disability insurance, call your Business Development Director at (888) 576-1971.