Complete Story

09/12/2023
Print Across America and Let's Get Loud!
Print Media Centr has developed a program entitled Print Across America as part of its International Print Day on October 25, 2023.
Print Across America unites the industry and print businesses through open-house events from coast-to-coast!
Support your customers, make new ones, and help them generate business with your products, services, and technology.
Stimulate interest in print today and in the future.
There is no cost to join-in, and as a member of our Graphic Media Alliance you will receive files for marketing materials that you can customize for your event.
See the Print Across America Press Release
It's ok if you don't know the details for your open-house event, Print Media Centr will contact you when that information is needed for the online directory that will list your business as a participating location.
If you are interested in participating, please fill out this short, online form.
Download 'Save the Date' art, the Print Across America Logo and Icons
Graphic Media Alliance will be happy to assist in connecting those who wish to host an open house with local schools and will advertise event details as requested.
---
Let's Get Loud About Print!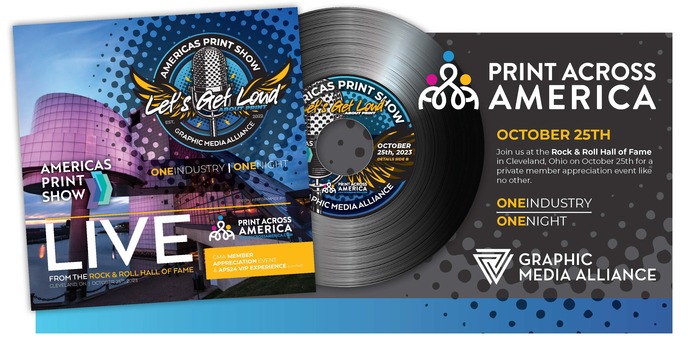 In addition, GMA in conjunction with Americas Print Show will be hosting a Member Appreciation Event at the Rock & Roll Hall of Fame on October 25 with a special live cast with Deborah Corn to celebrate Print Across America.
This is great opportunity to build awareness of our industry, and celebrating the craftsmen and craftswomen who are dedicated to our continued success.
---