2023 Leadership Conference
The 2023 Annual Leadership Conference has been scheduled for October 2nd, with our Golf tournament following the next day.
We will announce more detail and location specifics as they become available.
Save the Date!
---
2022 ENCORE Leadership Conference

Our 2022 ENCORE Leadership Conference was a great success! Thank you again to all of our sponsors, partners, speakers, staff and of course, all of the participants who attended this year.
Check out the photos from the event!
We kicked off the conference on Monday morning with Kelly Mallozzi with Success.In.Print. Kelly discussed the importance on on-boarding and training your sales team and ensuring that they have the marketing support to back them up. Sales starts with sustainability in order to bring in bigger and more profitable sales.
Jameson Rehm, Lean Strategy Consultant, shared his ideas for growth and reframing thinking to being more elastic. The biggest question to ask your company is what problems are we solving for our customers and how can we show up for them.
We welcomed Kelly back to the stage to discuss the importance of utilizing social media to grow your own professional presence as well as your company's. The key to a successful social media page is to engage, entertain and educate.
During a delicious lunch, Joe Trybula with Diversified Financial Advisors explained to attendees the importance of offering 401k plans to your staff to recruit and retain a solid workforce. He shared that some of the most successful companies he works with offer customizable plans that can be tailored to what is the most important to different individual's goals.
To speak on developing and implementing culture that works for your brand, we welcomed the charismatic Renea Williams. As humans, we all make mistakes and have differing ideas, and it is important within your culture to provide a safe space for people to have ideas to share as well as have bad days.
Jameson Rehm took the stage again to talk about how to get closer to where the work happens, but not getting in the way. When done mindfully without interrupting workflow, Gemba walks help you to catch the small problems before they have the chance to turn into something larger.
After working hard to bring the Printing Industry Performance Studies to our members for over a year, we were thrilled to bring in Dr. Ralph Williams, in person, to discuss findings of his deep dive into successful printing companies. Through Ralph's research, he has found that the most successful companies follow these management practices together: strategic planning, goal setting with SMART goals and financial ratio analysis. If your company begins implementing these practices, you too, can reach your full potential.
This year, we decided to try a different approach to Casino Night and launched the first annual PIEF Adventure Golf Challenge and Happy Hour. Attendees had a fun time raising money for PIEF Scholarships and trying out their skills on a 9-Hole miniature golf course. While battling amongst themselves, we saw many holes in one, as well as many 8 or more shot tries. Everyone had a good laugh and a good drink while networking with their peers and concluding a great conference.
As always, thank you so much to our tremendous sponsors! We could not have executed such a great conference without them.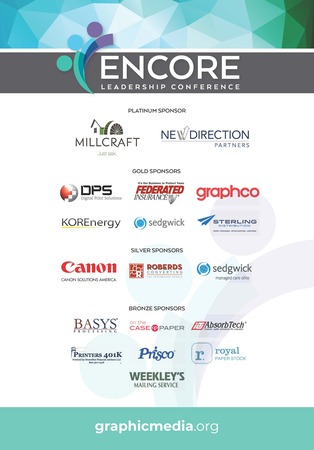 ---
Featured Presenters for 2022:
Dr. Ralph Williams - Middle Tennessee State University
Dr. Ralph Williams worked in the printing industry, serving as president of three companies (holding major ownership in two). Ralph then consulted for printing firms. Ralph earned a Doctorate in Business Administration from Kennesaw State University and serves as an Associate Professor of Management at Middle Tennessee State University. He teaches strategy, entrepreneurial financial management, family business and management principles. Ralph has published multiple academic research articles on family business, small business, and leadership. Ralph is actively engaged with printing industry associations – conducting industry research (PIPI: Printing Industry Performance and Insights), writing articles and speaking at association events.
Kelly Mallozzi - Success.In.Print
Blogger, author, consultant, coach and all around evangelist for the graphic arts industry, Kelly sold digital printing for 15 years so she understands the challenges, frustrations and pitfalls of building a successful sales practice. Her mission is to help printers of all sizes sell more stuff. Kelly's areas of focus include sales and marketing coaching, enabling clients to find engagement strategies that work for them and mentoring the next generation of sales superstars. Kelly graduated from the University of Michigan with a degree in Political Science and, among other notable accomplishments, co-founded the Windy City Rollers, a professional women's roller derby league. She is also the mother of two sets of twins under the age of thirteen, so she fears nothing.
Jameson Rehm - Lean Strategy Consultant
Jameson Rehm is a dynamic speaker focusing on creating cultures of continuous improvement. His career started in 2005 as a Lean consultant teaching problem solving to leaders and front-line clinical staff for Kenagy & Associates. This led to his stories being included in the book Designed to Adapt, which became the American College of Healthcare Executives book of the year in 2011. Since then, Jameson has been the primary leader of the Lean team at Mount Carmel Health System. He has led teams to see incredible results focusing on the quality and efficiency of patient care, while increasing employee engagement.
Renea Williams - Drew Alexander Consulting
Renea Williams is an accomplished philanthropy executive with more than 25 years of experience in fundraising and event production, strategic planning, cultivating relationships and change management. In her role as a fundraiser, Renea has raised more than ten million dollars redefining event and campaigns to achieve stellar results and brand awareness. Her biggest joy is being able to transform mission to strategies and goals into realities--using business acumen and fun. Her peers say, "Renea is a hands-on transformational leader with an empathic and charismatic personality who is dependable, trustworthy, patient, authentic and has unwavering integrity." Currently Renea is working for Drew Alexander Consulting as the vice president of Impact, where she leads client focused projects to help amplify team strategies, enhance cultures and develop boards.
Joe Trybula - Diversified Financial Advisors, LLC
Joe specializes in professional management of corporate retirement programs, focusing on organizing, formalizing, implementing and monitoring programs designed to meet their ERISA fiduciary responsibilities. Certified as an Accredited Investment Fiduciary®, CERTIFIED FINANCIAL PLANNER™ professional, and Certified Plan Fiduciary Advisor, Joe has advanced education and experience in fiduciary standards of care and their application to the investment management process.
---
Quest Conference Center:
In 2021, Quest Conference Center relocated to 9200 Worthington Road, Westerville, OH 43082. This location boasts larger, updated rooms all on one floor. This facility features beautiful views from all meeting spaces with ample complimentary parking available. The brand new conference center hosts an Ohio Inventor's Wing, and an Ohio Astronaut Wing with meeting rooms named for famous Ohioans.
Accommodations:
Quest Conference Center has secured special pricing for the conference at two adjacent hotels. To book your room at this reduced rate, please contact the hotel directly and ask for the Quest Conference Rate. The special rates will be honored up until the day before the conference, but reserve your room early to ensure availability.
Fairfield Inn and Suites
9000 Worthington Road
Westerville, OH 43082
(614) 568-0770
Hampton Inn and Suites
8411 Pulsar Place
Columbus, OH 43240
(614) 885-8400
---
Thank you to our generous sponsors!