Welcome to Graphic Media Alliance
Welcome to our new Graphic Media Alliance (GMA) website. We are excited to present our new website and share several new programs and services with you, while at the same time keeping you up to date on everything going on with the Association and in our industry. Several new features of our website include our new "Careers" section which provides member employers the opportunity to post job openings at no cost, and allows job seekers to post their resumed free of charge.
A new program we are introducing is under the Buying Power tab called PerkPlans. PerkPlans provides members and their employees a fast and efficient way to get discounts on a wide variety of products and services. Print Access 4.0, our industry's most effective searchable database, has also been updated with greatly enhanced listings allowing members to add pictures and videos. A social media component and improved mobile capabilities are also new.
These are just a few of new programs and services but there are also a number of updates and changes to many of our existing programs like Teladoc, ASH, and others. But be assured that everything you've come to count on is still here and available for your use.
Thank you for your membership and continued support of Graphic Media Alliance.
Jim Cunningham / President, Graphic Media Alliance
Welcome from our Board Chair
Most of us have spent our lives building our businesses. While there have always been challenges, most of the experience has been a great ride. Unfortunately in this time of great turmoil and stress, COVID-19 has become our greatest challenge to date. Not surprisingly, our industry and Graphic Media Alliance members are finding ways to adapt. Member companies in northern Kentucky are printing labels for sanitizer bottles, central Ohio members are making face shields for front line healthcare providers, large format printers are creating directional signs, and COVID-19 awareness materials are being printed by InPlant members in hospitals, as well as commercial printers in northern Ohio, and Michigan. Print clearly is an essential business, but more importantly, print is essential to everyone living through this pandemic. Print is still everywhere you look and will inevitably be an unsung partner in helping our neighbors and our country get through these catastrophic times.
The layoffs, lost work, and anxiety of recent months are clearly not "business as usual" for GMA members. We all need some sense of normalcy and I want to focus on the positive. Our Association has provided a lot of positivity and support over the last few weeks and we can look forward to more for the remainder of the summer and fall. The ongoing webinars and news bulletins we've hosted on COVID-19 for members and industry guests have been incredible. We believe it is important to get the news out on what's happening within our industry in Ohio, Michigan, and Kentucky without constraints.
I'm not sure anyone knows what normal is today, but in our effort to move forward we are planning on holding all three of our major activities this fall. This starts with our Print Excellence Awards print contest launching in September, and includes our Leadership Conference and Golf Tournament scheduled for September. We hope to keep all members actively engaged through the remainder of the year and going forward.
Our GMA team has come up with a unique approach for our Leadership Conference on Monday, September 14th. The plan promises not only to provide relevant content while observing all necessary safety protocols, but to also provide outstanding networking opportunities for you to spend time with your fellow members and industry peers.
The GMA Sterling Golf Tournament is moving to a new location, but the fun and competition will continue to be incredible! I've heard that the number of rounds at local courses are up unbelievably, so it's time to get out and hit some balls, and get your team ready to compete on Monday, September 21st, at the Delaware Golf Club!
We need your help and participation for these events, and as an industry, we need to support our Association during these difficult times. Our Association has been here for us throughout this crisis, and for the last 100 years. Jim and his team are looking forward to helping us get through the next century. Please continue to be involved and participate!
Who knows when this will all end and what lasting effects will linger. I do believe it will be a difficult recovery and some will not survive. Others will prosper from the adversity, but most will probably stay in their comfort zones and try to ride out the storm. While this may seem reasonable, I would also encourage you to use this time to your advantage. Look at your business model and the people running it. Is this the time to make the changes you've thought about for years but couldn't find time to implement, or time to review your current business environment to compensate for your reduced level of revenue? Are these the people who are going to take you into the next generation. Are you ok with finding an opportunity here and there to keep your head above water, or do you want a new reality?
Adam Silk / President & CEO, Digital Print Solutions
Print is Essential!
Following a major advocacy effort by GMA, PIA, and all major affiliated associations in our industry, printers and packagers have been specifically included as essential workers in the updated Guidance on the Essential Critical Infrastructure Workforce by the United States Department of Homeland Security's Cybersecurity and Infrastructure Agency (CISA) released on April 17, 2020. While CISA's guidance is not law nor a binding government regulation, it serves as an important benchmark by providing a standard definition of essential workers and encourages adoption by governors, county officials, and mayors. CISA estimates that approximately 75 percent of states have adopted its guidelines to create a more harmonious approach to determining which types of businesses remain open. A special thanks goes out to Government Affairs VP, Lisbeth Lyons, and PIA President, Michael Makin.
Membership
Networking, education, insurance and buying programs are all common reasons for joining an industry's association, but like any business decision, becoming a member of Graphic Media Alliance should be evaluated based on each company's assessment of its potential Return On Investment (ROI) for its dues dollar. Of course, every membership needs to take into consideration intangible benefits including networking opportunities, fellowship with other graphic communications firms and having a trusted confidant at the Association's office to discuss business issues.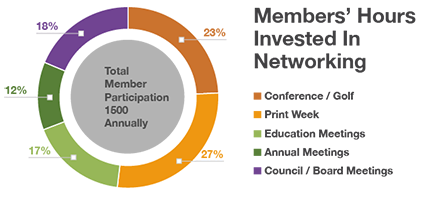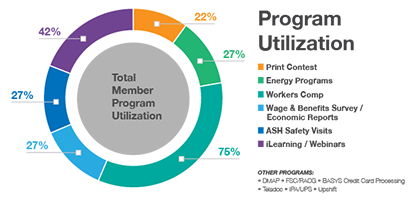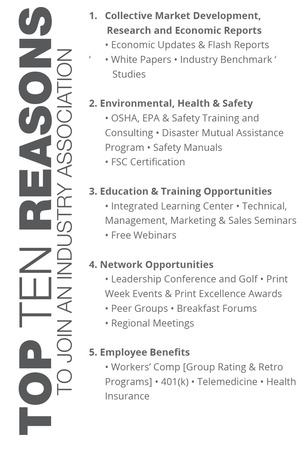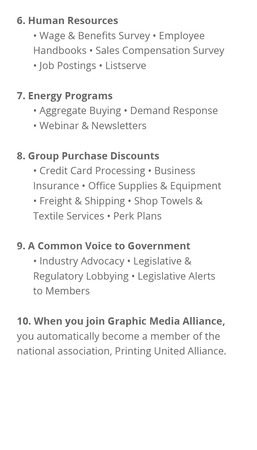 Meetings & Events
←
August 2020
→
S
M
T
W
T
F
S
1
2
3
4
5
6

Zoom Video Conferencing

August 6, 2020

7
8
9
10
11

Zoom Conferencing Meeting

August 11, 2020




10:00AM-12:00PM

12
13

Zoom Video Conferencing

August 13, 2020

14
15
16
17
18
19
20

Zoom Video Conferencing

August 20, 2020

21
22
23
24
25

Zoom Video Conferencing

August 25-27, 2020

26

Zoom Video Conferencing

August 25-27, 2020

27

Zoom Video Conferencing

August 27, 2020

Zoom Video Conferencing

August 25-27, 2020

28
29
30
31
Latest News
08/07/2020
Stay up-to-date on the evolving updates regarding COVID-19.
---
08/05/2020
Graphic Media Alliance is pleased to present our new website, as well as our newest member benefit, PerkPlans!
---
08/05/2020
We have added an additional session to this year's Conference, Diversity & Inclusion featuring Jeff Smith of Fisher Phillips.