2021 Leadership Conference and Golf Tournament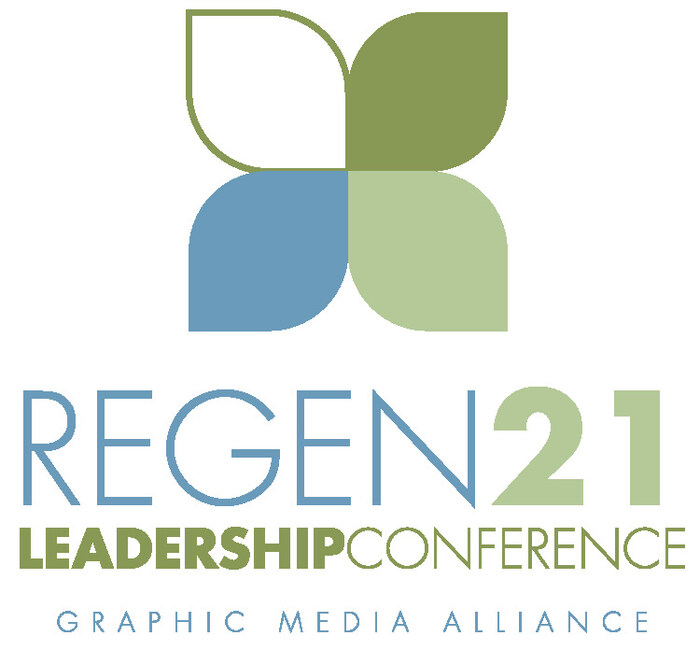 Leadership Conference:
Sunday, September 12 beginning at 3:00 pm &
Monday, September 13 beginning at 8:00 am
We are back to in-person events for our 2021 Leadership Conference! This conference has received fantastic reviews for a number of years and promises to be another excellent learning and networking experience. Though last year was a different year, utilizing a hybrid conference model, we had tremendous success and look forward to continuing the trend this year. We are excited to see everyone in person and offer a dynamic, more personal conference experience and a chance to speak more with the presenters.
For those under travel restrictions or with ongoing concerns regarding COVID, we are offering a Zoom option with reduced access. Please contact your BDD or the GMA office to register for this option.
NOTE that we will follow all CDC and local guidelines, including requiring masks and incorporating additional space in the seating areas.
We strive to keep our conference relevant to the industry and directly impactful to GMA members. This year, we will be discussing topics on HR and Culture, Sales, Project Peacock, Cyber Security and more!
Sunday, September 12
3:00 pm | Crafting Your Comeback with Customers - Deborah Corn, Print Media Centr
4:30 pm | Paper, Pen and Five Words - Bill Farquharson, Aspire For, Inc.
6:15 pm | Casino Night
Monday, September 13
8:00 am | Tales from the Trails of Project Peacock: Collaborate or Die! - Deborah Corn, Print Media Centr
9:30 am | Your Marketing Ecology - Mark Potter, Conduit, Inc.; CANVAS Magazine
11:00 am | Lessons from the Front Lines - Real World Tactics to Boost Employee Engagement and Elevate Culture - Steve Anzalone, Anzalone Advisors, LLC
12:15 pm | Have Lunch with The "Experts"
1:45 pm | The Four Keys to Sales Success - Bill Farquharson, Aspire For, Inc.
3:15 pm | Cyber Security - Mark Mosher, All Covered, IT Services from Konica Minolta
6:00 pm | 22nd Annual Print Excellence Awards Grand Ceremony sponsored by Millcraft
Plan now to join us at the conference and take advantage of these education sessions and dynamic events!
---
By popular demand, we are excited to bring back Deborah Corn with Print Media Centr. Deborah will be featured in two sessions during our conference. One of the sessions will focus on what is going on with Project Peacock, including the newly created print platform she and her team have created. We have found this platform to be an incredible one-stop-shop for all things graphic communications-related and are excited to hear more about her ideas.
Mark Mosher will be speaking at our conference on the current state of Cyber Security and what steps you can take to keep your company and personal data safe.
After a successful webinar he presented in April to our members, Bill Farquharson will be featured in two sessions over the course of the conference. His Sales Vault has been a great resource, and many members have already signed up for full use of the sales resources. We look forward to hearing more details on the Sales Vault and having more members take advantage of this great program.
Back by popular request for the second year in a row, Mark Potter of Conduit, Inc. will be presenting where he sees areas of opportunity within the industry and how everyone can rebound after a tumultuous year.
A new presenter to our conference this year is Steve Anzalone of Anzalone Advisors. Steve is well versed in all aspects of HR and how to create a strong culture for your company. He is a former consultant with PIA, and specializes in operational assessments. He was formerly president of the HardingPoorman Group, a leading commercial printer, and now he owns his own consulting firm. For more information on Steve and a preview of his presentation, check out the Summer edition of The Communicator.
Have Lunch with the Experts! Sign up at registration to have lunch and topic-related discussion with one of our outstanding presenters. Learn more about cold calling from Bill Farquharson, or what print buyers are really thinking from Deborah Corn. Are the cyber-attacks we're hearing so much about really new? Ask Mark Mosher over a salad and baked potato.
We will kick off our conference on Sunday, September 12, 2021 at Quest Conference Center in its NEW location!
Quest Conference Center
9200 Worthington Road
Westerville, OH 43082
This new location is located just behind the old location in the Polaris area of Westerville, OH. This new location boasts larger and updated rooms all on just one floor, beautiful views, ample parking and updated air quality systems in place.
After the education sessions are done for the day, we will be hosting our annual Casino Night. Grab a drink and join us for an evening of entertainment and catching up with friends in the industry! You could win some great prizes by playing games of chance.
We have a full day of learning planned for our second day of the conference on Monday, September 13, 2021, ending with a celebration of the best of the best printing in Ohio, Michigan and Northern Kentucky. The Grand Ceremony's gala event is the culmination of our regional awards ceremonies and will bring together the winners of those events to recognize the best in each category and ultimately the Best of Show in each of the four size divisions. You'll also see the Judge's and Rising Star Awards presented. Bring your artistic eye with you as you'll have the opportunity to choose this year's Grand Ceremony People's Choice Award.
Plan now to join us at the conference and take advantage of these education sessions and dynamic events!
Look for more information in our weekly e-newsletter First Impressions.
Please thank our sponsors!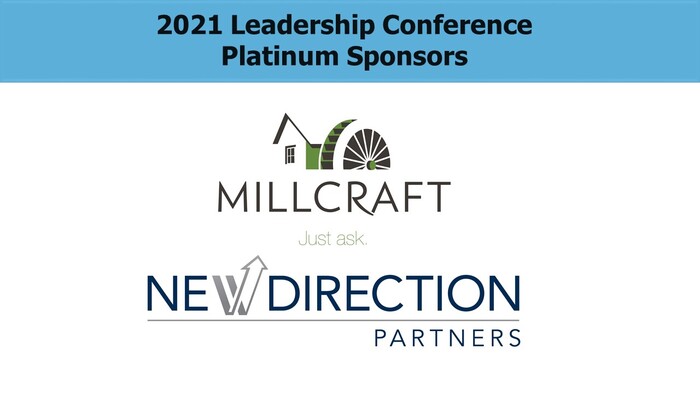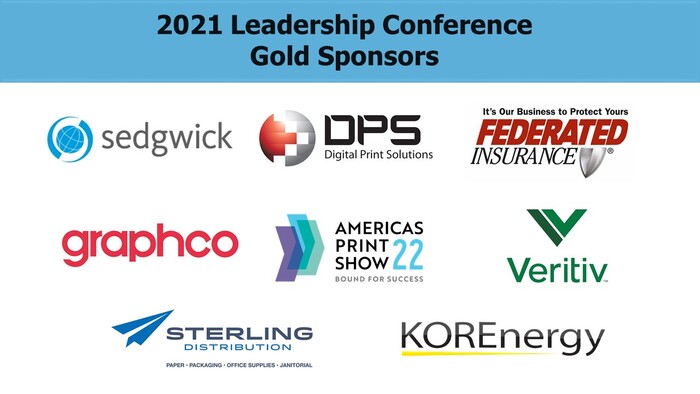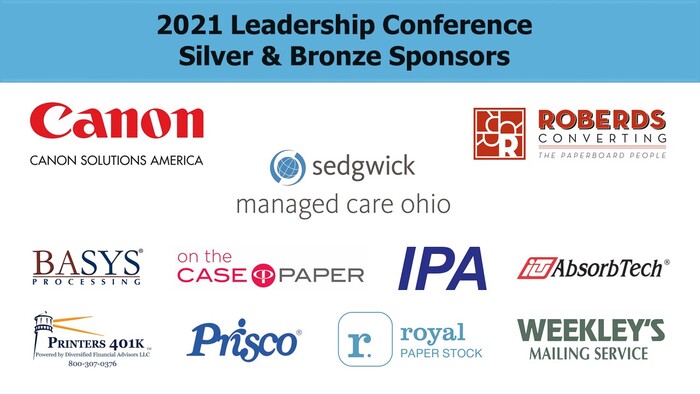 ---
Golf Tournament: September 14 - Shotgun start at 9:00 am
After the success of our first golf tournament held in Michigan this June, we are so excited to get back out to the links for our Annual Golf Tournament on Tuesday, September 14. Sponsored by Sterling Distribution, the tournament will be held at the Delaware Golf Course in Delaware, Ohio. Which 2021 foursome will usurp the current holders of the Printers Cup, the team from Prisco (Daryll Engle, Dave Gosiewski, Alex Schmiesing and Jason Barlage)? Get your team together now to take on the champs!
This golf tournament will be a great opportunity to get out and enjoy networking and chatting with industry peers whom you may not have seen in some time.
We will once again host an after-golf lunch buffet where we will present the awards to the first, second and third place winning teams, as well as the proximity challenges for closest to pin, longest drive and longest putt. Hopefully this year we will see someone take home the hole-in-one prize of $10,000! Make sure to purchase your mulligans for a chance to be entered into the raffle to win some terrific prizes.
Start gathering your foursome now!
ACCOMMODATIONS:
Blocks of rooms have been reserved at two hotels adjacent to the conference center. The Fairfield Inn and Suites / 9000 Worthington Road / Columbus, Ohio 43082, is offering a special rate of $109 per night (plus all applicable taxes); they can be contacted at (614) 568-0770. The Hampton Inn and Suites / 8411 Pulsar Place / Columbus, Ohio 43240 is offering a special rate of $121 per night stay (plus all applicable taxes); they can be contacted at (614) 885-8400. Contact either location and ask for the Quest Rate. The special rates will be honored up until the day before the conference, but reserve your room early to ensure availability.
Please thank our sponsors!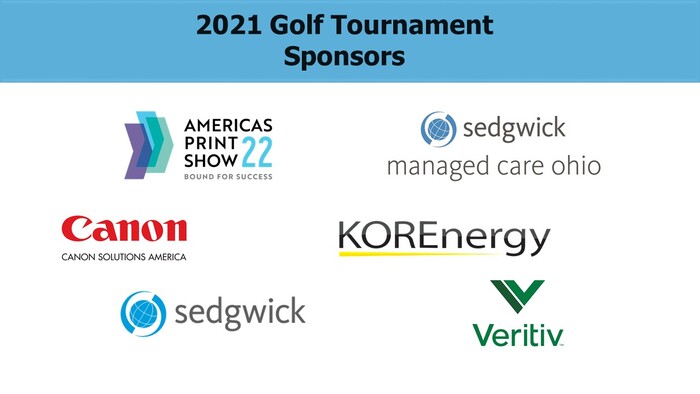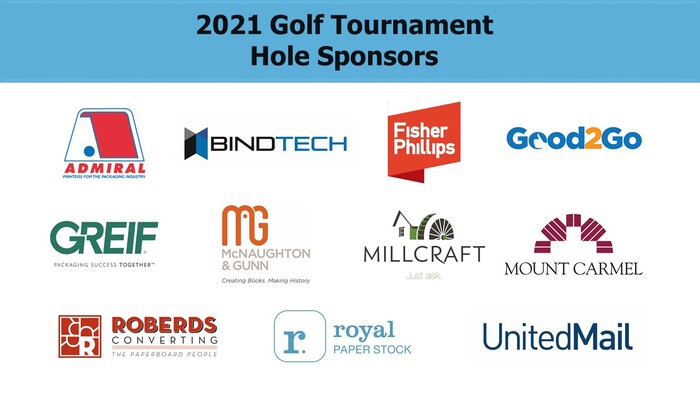 ---
---
2020 Leadership Conference
Our 2020 Leadership Conference was a great success! Thank you again to all of our sponsors, partners, speakers, staff and of course, all of the participants who attended this year.
View pictures from the event on Facebook
We were excited to bring in Mark Potter, who is the Publisher of Canvas Magazine and CEO of Conduit, Inc., to give his insight on where he sees opportunities to help drive your print business. The pandemic has widened the emotional gap of an already disconnected economy. Print can fill that gap. Real success results from real engagements and human interaction needs to be a part of the culture and strategy of your business. He closed with his favorite story, reminding everyone to be the buffalo that charges through this storm and comes out ahead on the other side and not the cow who runs away from it.
Jeff Smith, Partner at Fisher Phillips, dove into Diversity and Inclusion and noted that top organization leadership value diversity, but many managers are ill-prepared to handle issues that arise. Jeff made it clear that diversity is not enough; inclusion is needed for a successful organization to value their employees. The best initiatives to follow to expand diversity in your workforce are recruitment, career advancement and accommodations.
---
2020 Leadership Conference Participant Quotes:
"I thought it was very educational and in some ways motivational to keep going in these difficult times."
"Love this fellow, much more optimistic than some economists."
"Mark Potter is a Rock star, he was awesome."
"Felt incredible to actually attend an event and interact with other association members."
"As good as all of the speakers were I thought Jeff's presentation was the best on a very difficult subject."
---
Again, we appreciate the overwhelming support of our sponsors for this year's conference. Many of our sponsors attended and we're sure they feel appreciated and supported by our membership!
Please show your support of our faithful sponsors: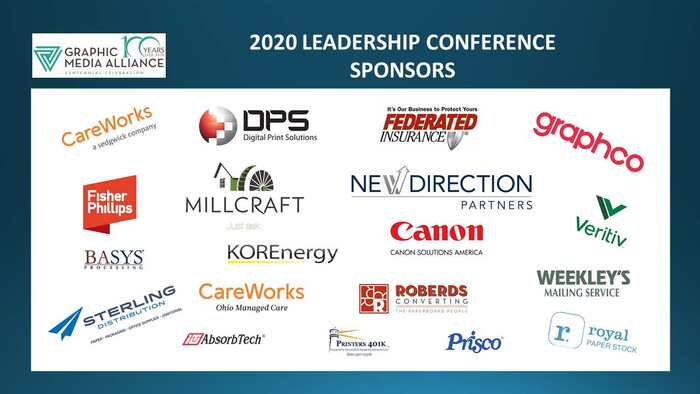 ---
Presentations from the Leadership Conference are available for download on our website.
Conference presentations are available here: Association Presentations. NOTE that member login is required for these resources. If you are on our mailing list, you can use the Forgot Login/Password link to get a temporary password sent to your email address. Contact the Association office if you need help with your login information: 614-794-2300.