2021 Leadership Conference
Our 2021 Leadership Conference is starting to shape up nicely. The dates are set as: September 12th and 13th, with our Golf Tournament on the following day, September 14th.
We'll post more detail as it becomes available.
---
2020 Leadership Conference
Our 2020 Leadership Conference was a great success! Thank you again to all of our sponsors, partners, speakers, staff and of course, all of the participants who attended this year.
View pictures from the event on Facebook
We kicked off the conference with a welcome from PRINTING United President, Ford Bowers. Ford gave an update on the PIA and SGIA merger. He stated that the best reason to merge the two associations was to create one entity that is inclusive of all segments of print and graphic communications within the industry. He discussed the other events taking place this year, and the change to digital for PRINTING United. He also reminded printers that the COVID-19 setback is temporary and to look to the horizon.
We were excited to bring in Mark Potter, who is the Publisher of Canvas Magazine and CEO of Conduit, Inc., to give his insight on where he sees opportunities to help drive your print business. The pandemic has widened the emotional gap of an already disconnected economy. Print can fill that gap. Real success results from real engagements and human interaction needs to be a part of the culture and strategy of your business. He closed with his favorite story, reminding everyone to be the buffalo that charges though this storm and comes out ahead on the other side, and not the cow who runs away from it.
David Wilaj, Economic and Market Research Analyst at PRINTING United Alliance, filled in for Andy Paparozzi and gave an update on the most recent Print Business Indicators survey. David sees the need to prepare for a post-COVID-19 world, and sees a demand in e-commerce remaining higher. He advised that it is time to analyze market trends and act on it The full results of the survey will be available in October.
Lisbeth Lyons, V.P. of Government Affairs for Printing United Alliance, gave an update on the 2020 election and where the stimulus package discussions stand at this time. She mentioned that there are talks on a more "skinny" stimulus package that has small business funding and a USPS stimulus initiative, which would both be beneficial to the printing industry.
Jeff Smith, Partner at Fisher Phillips, dove into Diversity and Inclusion and noted that top organization leadership value diversity, but many managers are ill-prepared to handle issues that arise. Jeff made it clear that diversity is not enough; inclusion is needed for a successful organization to value their employees. The best initiatives to follow to expand diversity in your workforce are recruitment, career advancement and accommodations.
---
2020 Leadership Conference Participant Quotes:
"I thought it was very educational and in some ways motivational to keep going in these difficult times. I enjoyed Ford Bowers."
"Love this fellow, much more optimistic than some economists."
"Mark Potter is a Rock star, he was awesome."
"Felt incredible to actually attend an event and interact with other association members."
"Lisbeth was very enjoyable and informative as always, she's great."
"As good as all of the speakers were I thought Jeff's presentation was the best on a very difficult subject."
---
Again, we appreciate the overwhelming support of our sponsors for this year's conference. Many of our sponsors attended and we're sure they feel appreciated and supported by our membership!
Please show your support of our faithful sponsors: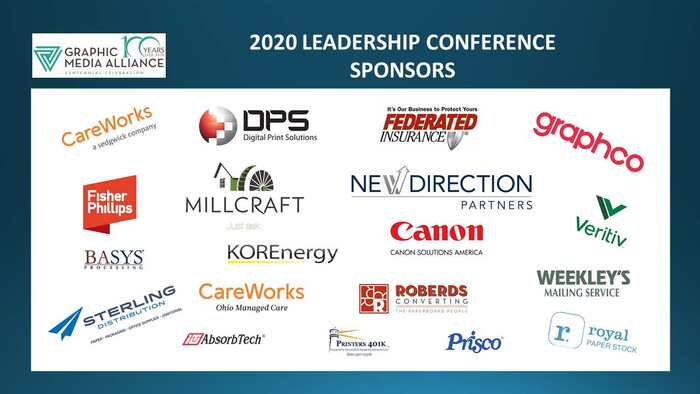 ---
Presentations from the Leadership Conference are available for download on our website.
Conference presentations are available here: Association Presentations. NOTE that member login is required for these resources. If you are on our mailing list, you can use the Forgot Login/Password link to get a temporary password sent to your email address. Contact the Association office if you need help with your login information: 614-794-2300.